Dear Grandchildren,
Well there is finally a thin layer of ice on the pond behind our house.  It is much too soon to go on any ice…so STAY OFF THE ICE…until your dad says it's safe.
Well I have decided to eat healthy this holiday season.  So every morning I have been eating cottage cheese with pineapple.  I love pineapple.  It is sweet and sour all at the same time.  Its yellow color reminds me of sunshine and the tropical island of Hawaii where it is grown.  I have never been there, but I am told it is just beautiful.
I do have a cousin who grew up in Hawaii. He lives out in California now.  He never could get used to the cold, snow and ice of Minnesota.  He is about the same age as your Great-Grandpa Larson.  This guy was amazing at Judo and was once a coach for our country's judo team at the Judo World Championships.  He has great stories.
Cousin Mel. 
One of his stories happened when he was just a boy…about your age.  In those days parents did not let kids sleep in, even on weekends.  So, it was bright and early when his friends stopped by to see if he wanted to go climb the hills and see the sun come up over the sea port town where they lived….Pearl Harbor, Hawaii.
These boys loved climbing up to the high places outside of town to watch all of the ships in the harbor.  Pearl Harbor was one of our country's biggest naval ports at that time and much of our Pacific fleet of naval ships were there.  Then, too, there were the air fields where American military planes would take off and land all day long.  What kid wouldn't want to sit and watch that in the warm tropical sunshine?  It must have been beautiful.
So as my cousin and his friends were sitting there enjoying the view.  Several small planes flew over them a lot closer that the pilots normally did.  The boys all stood up and waved at the pilots and the pilots, as usual, waved back. It was only then, that the boys notices that the pilots were not Americans, but Japanese.  Then, without warning the bombs began to fall onto the great ships in the harbor.  Little did these boys know that they had just witnessed the beginning of World War II.

Japanese plane that was used in attack. 
Japan, just like Hitler, began world conquest campaigns long before the American's joined the fight.  The war began in Europe when Hitler invaded Poland on September 1, 1939.  The Japanese began their military march across Asia and the Pacific Islands when they invaded Manchuria in 1931.  For the next ten years Japan expanded its China invasion leading to a war with China in 1937.  The Japanese war machine was ruthless and cruel. It is estimated that in China alone about 7-11 million civilians died as a direct result of military action and another 3-4 million Chinese soldiers were killed.
Until the terrorist attack on the World Trade Center on 911, the attack on Pearl Harbor was the most deadly attack by terrorists on United States soil.  The casualties on 911 were 2,996 people killed and more than 6,000 wounded.  There were 265 killed on the four planes, 2606 in the World Trade Center and immediate area and 125 deaths at the Pentagon….but that is another story.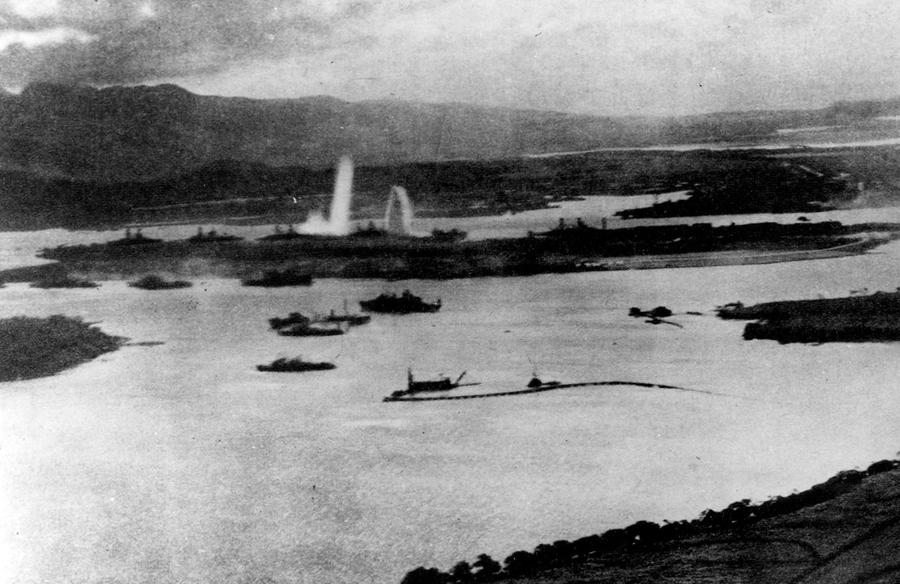 Picture taken from the cockpit of attacking Japanese plane of first bombs landing. 
Japan's surprise attack on Pearl Harbor began at 7:48 a.m. when the first wave of 353 Japanese fighter planes, bombers and torpedo planes attacked. These planes were launched from six aircraft carriers that were anchored just north of the island of Oahu.  The planes in the first wave were:
Forty-nine Nakajima B5N bombers armed with 1750 pound armor-piercing bombs targeted battleships and aircraft carriers.
Forty B5N bombers armed with torpedoes.
Fifty-one Aichi D3A Val dive bombers armed with 550 pound bombs targeted Ford Island the Wheeler Field.
Forty-three Mitsubishi A6M "Zero" fighters targeted Ford Island, Hickam Field,
Wheeler Field, Barber's Point and Kaneohe.
Picture from cockpit of attacking Japanese aircraft. 
The attack only lasted for about 90 minutes. When it was over all eight U.S. Navy battleships were damaged.  Four had sunk. Three cruisers, three destroyers, an anti-aircraft training ship and one minelayer were also badly damaged.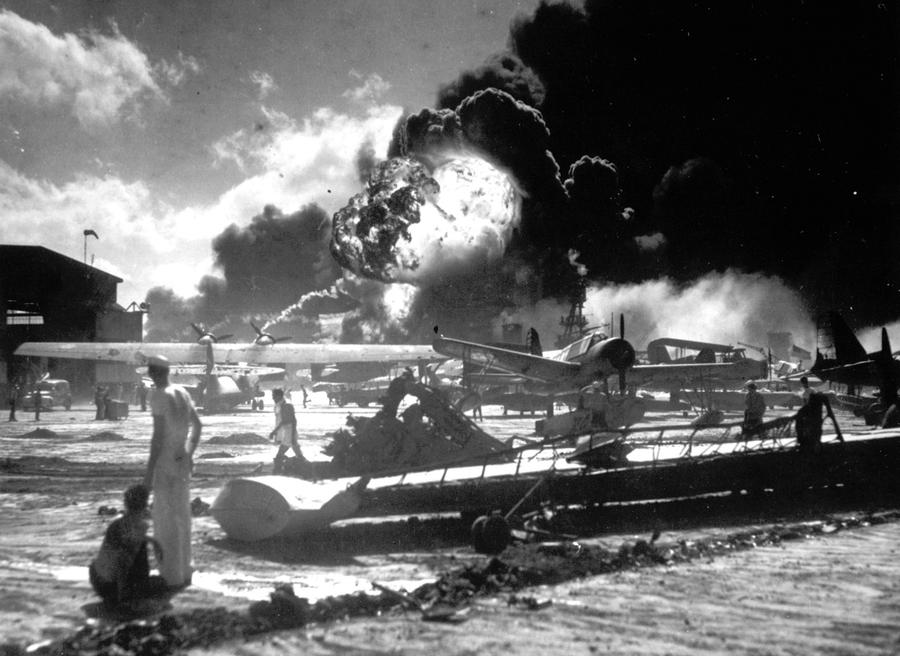 Pearl Harbor immediately after the attack. 
American Military forces in Hawaii began the day with 402 airplanes.  Of those 188 were destroyed and 159 damaged.  A total of 155 planes were damaged or destroyed while just parked on the ground.  Only eight planes managed to get airborne during the attack.  Nobody in the sky was safe from the Japanese attack, in fact three civilian aircraft were also shot down.
In addition to the massive amount of damage done to the United States' ships and planes, the loss of life was horrendous.  There were 2,403 Americans killed and 1, 178 wounded. On the other hand, by using a strategy of surprise, the Japanese losses were quite small. They lost 29 aircraft, another 74 were damaged, five midget submarines were sunk and 63 men killed.
At Pearl Harbor on that fateful day were members of Minnesota's Naval Reserve. These sailors served on a ship call the U.S.S. Ward.  Before the attack on Pearl Harbor had even started they spotted a Japanese midget submarine and sunk it.  The Ward's gun was known as the first gun to be fired by American's during World War II.

Members of the crew of the U.S.S  Ward standing by the gun that fired WWII's first shot. 
The U.S.S. Ward may have survived the attack on Pearl Harbor, but she did not survive the war. On the morning of December 7, 1944, three years to the day after the ship's shot was the first of the war, she was attacked by several Japanese kamikazes.  Kamikazes were pilots that used their planes as bombs and purposely crashed them into American ships.
These young Japanese men had promised their government to die in their planes. To ensure that they would indeed commit suicide in their planes and keep that promise, their government, for added incentive, removed the plane's landing gear. One kamikaze hit the Ward badly damaging her.  Her crew was ordered to abandon ship and then she was sunk by another American ship.

The gun that fired the first shot of World War II at the Minnesota State Capitol.
The USS Ward's "First Shot," gun had been removed from the ship when it had been updated earlier in the war.  When my friend Bob Hanson was National Commander of the VFW, he found out that this gun was in a junk pile and was going to be scrapped.  He got permission for the gun to be shipped to Minnesota. He showed me the actual letter giving Minnesota the gun. Today this very gun is on display on the Minnesota State Capitol Mall. It's a big gun!  We will have to go see it sometime.
While the first two waves of Japanese attack planes created severe damage and loss of life.  Had a third wave hit Pearl Harbor's fuel and torpedo storage, maintenance and dry dock facilities, the result for Americans would have been much worse.  Without these resources used to repair the damaged ships and aircraft it is estimated that the war against the Japanese in the Pacific could have lasted another two years.
Almost half of all the Pearl Harbor casualties occurred on the battleship U.S.S. Arizona. The Arizona weighed 31,400 tons and was over 608 feet long.  It was over 97 feet tall when in the water. This ship was hit by four bombs.  Its ammunition store was hit and over 1,000 pounds of black powder exploded.  The whole front part of the ship was destroyed. The ship sank, in less than 40 feet of water, taking over 1000 men to the bottom with her. Many of these men died slowly, trapped inside the ship.

U.S.S. Arizona  on fire and sinking. 
In total 1,177 members of Arizona's crew were killed.  There were 37 pairs or trios of brothers on the Arizona. Of these 62 were killed. Twenty-three sets of brothers died.  Only one set of brothers survived. And that was only because one was off the ship that day and the other survived his wounds. The ship's only father and son pair were both killed in action.
All 21 members of the ship's band died.  When the attack began, they were on the top deck of the ship getting ready to play music for the daily flag raising.  Immediately these brave sailors ran to their battle stations. This is the only time in our nation's history that a whole military band was killed in action all at the same time.
Your Great-Grandpa Larson has been to Hawaii and seen the memorial for the Arizona. The memorial is built over the sunken ship. All these many years later this ship is still leaking oil into Pearl Harbor's harbor.

Memorial for the U.S.S. Arizona.  It was built on top of the doomed ship and crew. 
Interestingly, there was this very popular and handsome singer back in those days named Elvis Presley.  He got drafted and served in the Army.  When he got out of the military, one of the first things he did was play a concert in Hawaii to raise money for the Arizona Memorial.  He raised over 50,000 dollars which was about 10 percent of the total cost to build the memorial.  Elvis was the largest private donor to the memorial.  I have many of his CD's if you ever want to hear him sing. Grandpa won't let me get a poster of him.

Elvis Presley in Hawaii for March 25, 1961 benefit concert for U.S.S. Arizona Memorial. 
Now, you may be asking yourself, where is the cat in this story?  Well the Japanese were certainly "Sneak Attack Cats."  However, there is a famous Pearl Harbor cat and her name was Pooli.  Pooli was born on July 4, 1944 in the Navy yard at Pearl Harbor and with her mother set sail that very day on the attack ship USS Fremont.
This cat became the ship's mascot and saw action in many Pacific sea battles from the Philippines Islands to Iwo Jima.  Whenever the call to battle stations was sounded this cat would sprint to the mail room and would fall asleep in a mail bag.  The guns blasting away did not bother her a bit. For her service this cat was awarded three service ribbons and four battle stars.  Pooli survived the war and lived to be a very old cat.

Pooli  wearing her uniform and medals. 
Within days after the attack on Pearl Harbor our nation declared war on both Germany and Japan.  Fighting a two-front war is never a really good idea.  Which reminds me of during the Civil War when many politicians were pressuring Abraham Lincoln to fight a two-front war and declare war on England. …he responded by saying, "One war at a time….One war at a time!"
Nobody with a brain for survival would choose to fight a two-front war. A two-front war, which was what World War II was for America, was thrust upon us by the Japanese attack on Pearl Harbor. It was tough war. Our country had to unify and everyone had to forget their personal differences and work together.  When we all come together as an American family, I believe we are unbeatable.
Lincoln was a wise old guy and, "One war at a time" is good advice for many things.  Staying focused on a job until you have successfully completed it organizes the mind and promotes excellence.  Now, I am going to go focus on Christmas present wrapping.
Lots of hugs and love,    Grandma Pat